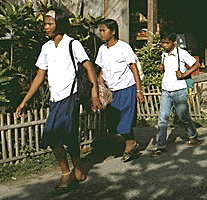 Genaral Information
Boracay island is a part of Visayas and their culture is slightly different from Manila's. However many workers come from Manila and other part of the Philippines.
(Photo: Students after school)



Language
English is one of the official languages of the Philippines and there are no communication problems in English.They are the best English speakers in Asia. If your mother tongue is not English, you may have some difficulties in listening to Filipino English because of their strong accent.Their language abilities depend on individuals and education background.Some people speak English as if they were brought up in USA.
The national language of the Philippines is Filipino, though they have many local languages.

The main language in Panay is Ilongo but, in Boracay, they speak their own language

Aklanon, the language of Aklan. Its vocabulary and grammar is a little bit, but not very much, different from Tagalog spoken in Manila.
Such a local language is called a Vernacular Language, not a Dialect, by language experts.
For more information on languages in the Philippines, visit Ethnologue: Philippines, a part of SIL(Summer Institute of Linguistics) site.SIL has made huge contribution toward the research on languages of cultural minorities in the Philippines.

They have many Spanish origin words or expressions, as the Philippines was a colony of Spain.Spanish is not spoken in conversation any more, but they still count numbers and tell time in Spanish.For example, they sometimes say ,"A las dos y medya." instead of "It's two thirty."