(1) from Manila to Boracay via Caticlan
Quickest but most expensive route (A round-trip ticket is approx.US$150)
| | | |
| --- | --- | --- |
| Manila (Domestic Airport) | - Caticlan Airport, Panay | 1 hour |
| Caticlan | - Wharf (by tricycle) | 5 minutes |
| Wharf | - Boracay | 10 to 30 minutes |

Flight is about 1 hour but you need almost a half day including waiting time.
Aircraft is small and passengers are limited in 4 to 42 persons.Flight companies are Pacific Airways, Asian Spirit and etc.
Flight schedule of Manila to Caticlan/ Caticlan to Manila is available at Boracay flight information provided by TravelSmart.net.These schedules may be changed without prior notice.
They weight your luggages and you before boarding a aircraft.Hand carry luggage may be limited in one small bag. You should rearrange your luggage before weighting.
Manila Domestic Airport is located about 2Km north of NAIA.
You may have to spend a night in Manila on your way to Boracay because onward flights are limited.

(2) from Manila to Boracay via Kalibo
PAL flight is available to Kalibo (A rouund-trip ticket is approx.US$100)
| | | |
| --- | --- | --- |
| Manila (Domestic Airport) | - Kalibo Airport, Panay | 1 hour |
| Kalobo Airport | - Wharf (by bus or Jeep) | 90 minutes |
| Wharf | - Boracay | 10 to 30 minutes |
Flight schedule of Manila to Kalibo/ Klibo to Manila is available at Boracay flight information provided by TravelSmart.net.These schedules may be changed without prior notice.
Manila Domestic Airport is located about 2Km north of NAIA.

(3) from Manila to Boracay via Caticlan by ferry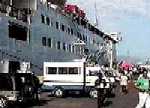 M/V Mary the Queen of MBRS Lines is only the ferry to Caticlan from Manila at this time.It takes about 13 hours from Manila to Caticlan via Odiongan of Tablas island.The ferry anchors off Caticlan and passengers must disembark to waiting banca boats to head to Caticlan port.This route is inexpensive but not recommendable for tourists because cruises are limited, and because of some other reasons.See [Important] notice below.

Manila to Caticlan at Pier 8(North Harbor) in Tondo
Departure: 5:00pm every Mondays and Fridays
Arrival : 8:00am every Tuesdays and Saturdays
Caticlan to Manila
Departure: 1:00pm every Wednesdays and Sundays
Arrival : 4:00am every Thursdays and Mondays, passangers may stay in the ferry up to 8am.


Rates: Economy - P380.00, Deluxe - P580.00, Cabin - P680.00(as of June 23,1999)
Rates, times and a place to board the ferry may be changed without prior notice.Please contact MBRS Lines for futher information.
Manila ofiice phone number is (0632) 921-6716 and Aklan office in Ibajay, (06336)268-2072 or 268-2044.

---
[ Important ] Regarding Pier 8, the area is not quite safe, even for Filipinos. Tourists should take a lot of precaution or be accompanied by a guide if they are serious in considering to take the ferry.
Acknowledgement:We are grateful to Camilo Bolinas, Ichiro of Seagaia Diving Resort and Taka of Red Coconut Resort for their informatin about the ferry.
---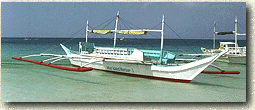 From Caticlan to Boracay, an outrigger boat so called banca is available transportation.
All the passengers have to wade through the water to get to the boat.You should wear something suitable.


---