Yapak
Barangay Yapak is located in the north part of the island.Most of the part is hilly . However there are some beautiful beaches on the coasts such as Balinhai, Pukashell, Ilig-Iligan.Walking up in the strong sun light and when sea is suddenly appeared ahead, you may be impressed the tropical landscape of the island.

To get to Balinhai beach, it is common way to charter a banca at White Beach.There is a coconut plantation at the back of the beach that separetes you from other people and keeps quiet air.

Ilig-Iligan is located on the way to Bat Cave.The beach is not suitable for bathing as waves are heavy and waters are deep.However the sea on the beach is fantstic in emerald-green color.(Photo: Ilig-Iligan beach)

The map is necessary to know where you are though roads are not complicated.Maps are available at hotels or restaurants.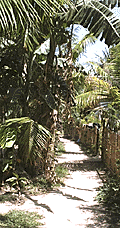 Balabag
Barangay Balabag is located in the center of the island.There is Wite Beach on the west coast for 4 Km long and you will find many resort hotels and restaurants along the beach.
The beautiful sunset may be seen on White Beach though the sun is set in the twinkling of an eye.The night with the moon is also fantastic.

Bulabog is on the east coast and famous for windsurfing. The window is enough for surfing in high season. English Bakery main is on the way to Bulabog.
Main road runs through the island and there are a school, hospital and sari-sari stores along the road. You may buy waters and fruits at sari-sari store.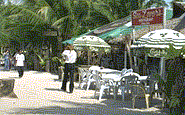 Between the Main Road and White Beach, there lives many residents. One of the outstanding points of Boracay is we can touch the life of the local people.
(Photo: Small path through a village)

Going on Main Road to the south, you will reach Manoc-Manoc. Going on the road to the other direction, you may reach Yapak through Balabag. (Photo: A restaurant along Whit Beach)
Manoc-Manoc
Barangay Manoc-Manoc is located in the south of the island.
There are some resort hotels such as Boracay Beach Yatch Club.It's a quiet place.
Walking through the place, you will see bamboo bushes and close up of the nature.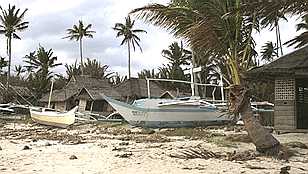 There is Pier that seems to be seldom used.
(Photo: A village in Manoc-Manoc)

Caticlan Airport of Panay island
Various types of aircrafts come and go at the airport.They alert people to landing of aircrafts by fire engine's siren. A dog sometimes welcome guests.Comfort rooms of the airport don't seem fantastic.