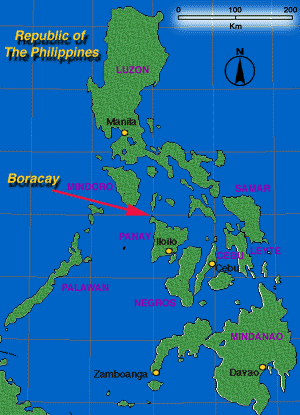 Back to Navigation map
Introduction

Boracay is a beautiful small island surrounded by coral reefs and located one km north-west of Panay island in Visayas of the Philippines. It is seven km long and one km width at its narrowest point.

Befor the middle of 1980s, it was a famous hidden resort but known to limited numbers of sea lovers. Now many tourists visit there from all over the world, Ameica, Europe, korea, Taiwan and so on.
They report 160,000 tourists visited Boracay in 1997 and Koreans are largest in numbers.
In Visayas there are many marine sport spots with coral reefs and white beach. Among them four km long white beach of Boracay is beyond comparison.
There are a lot of restaurants and hotels along the white beach though they are hidden behind coconut trees planted.

High season is from November to the end of May and low season from June to October. Acommodation fee depends on the seasons and facilities of hotels. Boracay is windy in whole seasons and especially in the low season.