1. Navigation Map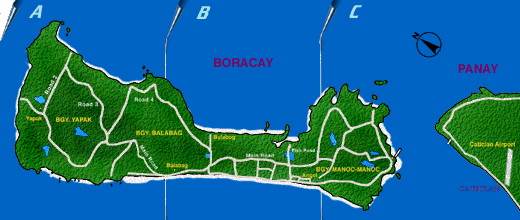 The "Boracay Map" is called "Navigation Map" here.It is divided into three areas A,B and C. By clicking over one of the areas, its enlarged and detailed area map is shown.

2. Area maps Map-A, Map-B and Map-C
You'll see navigation buttons




at the top of the area map page.
Each button has function as follows;

| | | |
| --- | --- | --- |
| | | Go back to Navigation Map |
| | | Move to Map-A |
| | | Move to Map-B |
| | | Move to Map-C |
New visitors are recommended to go to Caticlan Airport in Map-C at first.

A red square
indicates that photograph of the spot are available. Click a red square to see a photograph.An image JPEG file is around 50Kbyte (30K-90K) in size.To download whole phograph image ,it takes about 5 to 15 seconds with a 64Kbps ISDN and 10 to 30 seconds with a 28.8Kbps modems.

When you find the sign

Get BGM and click the mark, RealPlayer is run and a music starts.You may move to another pages while listening to the music.
Copyrights of the BGM musics are reserved by the Volt-age.

A mark

on an area map shows RealVideo movie of the point is available.
To access RealAudio or RealVideo files in this site, modems of 28.8Kbps or faster is required.

If you haven't installed MIDI controller or RealPlayer, go to Download page please to get them. 3. Photographs

On the right top of photograph displayed, you will see navigation buttons




.
The function of each button is almost the same as is at area map. But if you click navigation button

, you go back to area map where the spot of the photograph view locates.

You may move to another photograph by clicking location name displayed around the navigation buttons. If location name has a serial number, the number shows you see one of the set photographs. For example, "Balinhai 1/4" indicates you see the first one of four photographs of Balinhai beach. Positions of location names around the navigation buttons show approximate direction to the current photograph. A location name above or below the navigation buttons shows it exist respectively ahead or behind of you.

If you see the link button

on the left top of the photograph, it links to a related site.